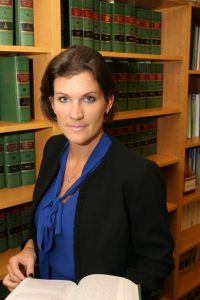 Jennifer Miller represents clients accused of misdemeanor and serious felony offenses in the Washington State court systems as well as the federal court system. She also represents parties that are involved in divorce proceedings.  She has extensive experience in family law issues, including parenting plans, third party custody and child support.
She is an experienced trial attorney with a distinguished record as a former King County Prosecutor. She brings a wealth of knowledge and experience about how the prosecution puts their case together. She is able to use her past experience to find weaknesses in cases against her clients.
Ms. Miller graduated from Willamette College of Law and Atkinson Graduate School of Management in 2001 with a J.D. M.B.A. joint degree and graduated with a Bachelor of Arts in Spanish, English and Communications. She started her legal career in Seattle.  Prior to starting the firm, she served for over ten years as a highly successful prosecuting attorney with the King County Prosecutor's Office. As a Deputy Prosecutor, she prosecuted domestic violence, sex offenses, child abuse and child molestation, drug, juvenile and violent crimes cases.  She specialized in taking challenging cases to trial with enviable results.  She spent her last several years of trial specializing in violent crimes cases, taking over 25 Class A and B felonies to trial in under a year and a half. She also negotiated violent and non-violent cases and made filing decisions.
While working at the County, she was recruited by the Seattle City Attorney's Office to create a training program for young trial attorneys. She trained City of Seattle trial attorneys in the development of trial strategies and the handling of motions hearings and evidentiary issues. While there, she became skilled at negotiating and preparing cases involving driving while intoxicated (DUI) and dealt with issues involving legalization of marijuana and charging DUIs where marijuana was used.
She has served as a pro tem judge since 2012 in various courts throughout King and Snohomish counties.  This experience gives her the ability to see trial issues through the eyes of a judge.
She fights hard for each and every client.